Healthier for longer: Improving adult immunisation uptake in Singapore
Publication Date: 19 March 2020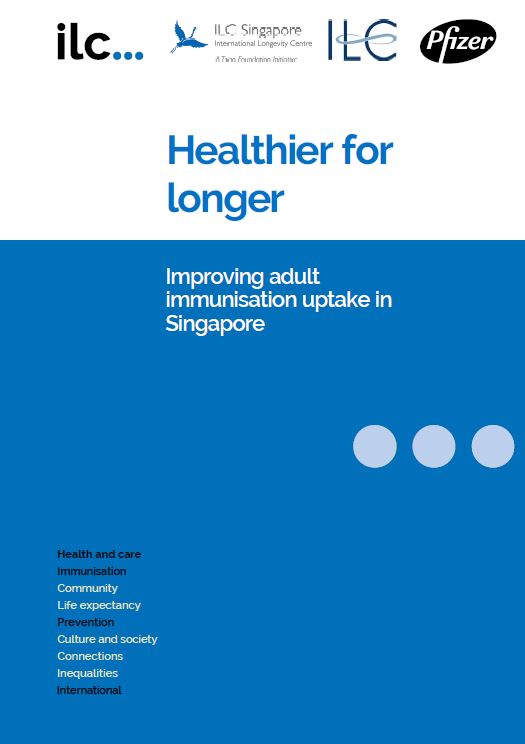 This report has been produced in collaboration with ILC Singapore. It explores the relationship between Singapore's ageing population and adult vaccination. Based on an ILC Singapore public seminar and roundtable discussion held in October 2019, the report finds that as Singapore's health system is coming under increasing pressure as its population grows older, more must be done to overcome the challenges to adult vaccination uptake.
In Singapore, due to a rapidly ageing society, rates of chronic and age-related health conditions are rising which is leading to greater health service utilisation and costs. Adult immunisation could play a significant role in limiting the strain and cost to the health system, especially in light of a number of additional risk factors including: the lack of a distinct flu season, a large temporary population and high rates of pneumonia. However, despite recent government-led efforts to promote adult vaccination, vaccine uptake rates remain low.
Singapore faces a number of barriers to encouraging adult vaccination uptake, including:
The mandatory national medical savings scheme, MediSave, disadvantaging patients with chronic or multiple health conditions;
Low public awareness of adult vaccination;
An overreliance on doctors, and an underuse of allied health professionals to drive adult immunisation;
Inadequate data to inform both policy and medical decisions on adult vaccination.
In the report, we set out a number of recommendations for how Singapore can build upon its strengths to increase uptake rates:
The Singaporean government should provide a funded wellness package that includes vaccinations and screening for older people living in care homes;
The Singaporean government should consider financial incentives for patients;
Senior healthcare management should lead efforts to increase their staff's knowledge and awareness of adult vaccination;
The Ministry of Health should expand Healthhub to create a 'one stop shop' for patients' adult vaccination history;
Policymakers should consider whether the National Collaborative Prescribing Programme should be expanded to include adult vaccinations.
Financial support for the development of this briefing was provided as a charitable donation by Pfizer.