A fork in the road – The future of driving in an ageing society
Publication Date: 06 February 2020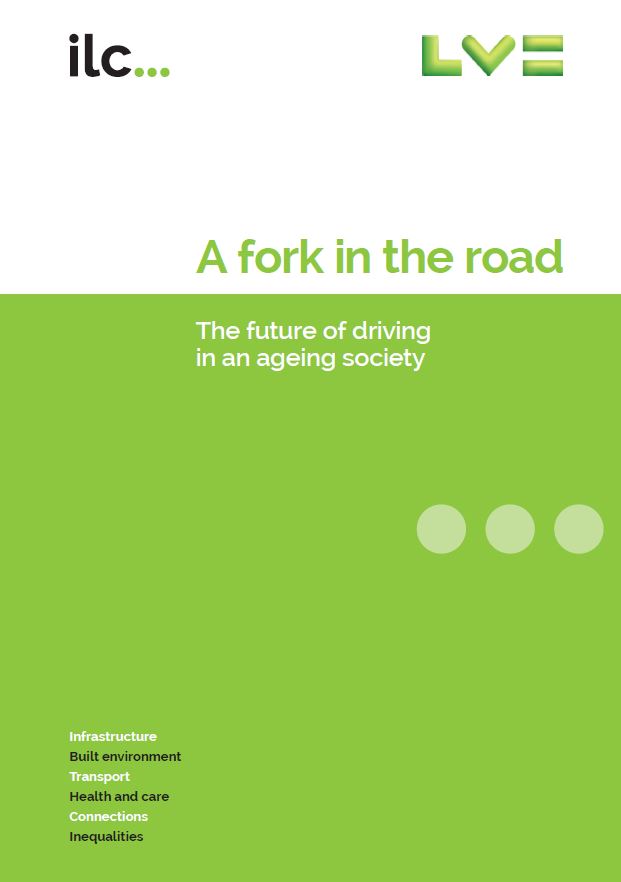 At ILC our aim is to understand the impact of longevity on society and what happens next. To do this we need to understand what the future will look like and to think about the questions that will arise as a result of living in an ageing society.
In this report, sponsored by LV= General Insurance, we consider the future of driving. Since the widespread adoption of private cars in the second half of the twentieth century, driving has become an integral part of how people commute, travel and live their lives, shaping where we live, work, shop and play.
As the number of older people (aged 65 and older) in the population has grown and our lives have grown longer, the number of people still driving later in life has increased, and this is set to continue. The story of the future of driving, is a story about older drivers.
Driving is also changing – our cars are different and when we drive, who drives and where we drive is changing. Our research has identified three significant trends. These are:
The shift toward electric vehicles.

The emergence of new digitally-enabled models of mobility, including mobility-as-a-service.

Increasing automation of driving.
Having considered how these trends will interact with our ageing society, we predict the following shifts in how we move around:
Our 'driving lifespans' will extend – but some people will miss out, as a result of cost and other barriers to adopting new driving technologies.

Automation will reduce the risks of driving for older drivers, supporting longer driving lifespans – we anticipate that we may see insurance products changing in response to the emergence of some new forms of automated assistance (e.g. autonomous emergency braking).

However, vehicle connectivity will lead to new risks, including around data breaches and cyber-attacks, which will need to be mitigated.

We anticipate a significant shift away from the private car, the result of a combination of government action to reduce congestion and emissions, changing social attitudes and norms related to climate change and carbon, and the rising cost of increasingly sophisticated vehicles. In place of private car journeys, ride hailing, and car hiring will become more popular, and new forms of ride sharing and shared mobility will emerge.



These shifts will have real implications for our society. We predict:
Electric vehicles will lead to improved air quality, with positive impacts on health and quality of life especially in urban areas.

As our 'driving lifespans' extend, more older people will be able to maintain their social connections for longer.

As new forms of mobility increase commuting speeds, the suburban outer ring around cities and urban centres will expand still further, with house prices increasing in these newly commutable places.

The rise of shared mobility may encourage the development of other shared services.
However, we also envisage some profound challenges ahead:
While those who can afford them will benefit from significant new developments in vehicle technology and mobility, costs will rise, even for shared services, and so we anticipate a growing mobility gap between rich and poor.

We expect to see a growing mobility divide between urban and rural areas, with older people particularly affected.

People who are in poor health or have additional needs will face ongoing mobility challenges – particularly in travelling the 'last ten yards' from kerb to door.

As new forms of shared mobility emerge, there is a risk that some individuals and groups will be excluded, either because they are already discriminated against on the grounds of their ethnicity, age, gender, disability or other characteristic, or because their personality or behaviour are not well suited for sharing.

People who are digitally excluded will be increasingly at risk.

If we act now, there are opportunities to mitigate these risks and ensure that more people benefit from new technology and new forms of mobility as they age. It will be vital that older adults are included in thinking through and managing the implications of changes to how we drive in future. Older adults should be actively included in policy discussions around the future of mobility.