Innovating together: Why design accelerates impact for entrepreneurs
Date: 01 December 2020
Authors: John Mathers and Julian Grice, Design Age Accelerator
This blog contributes to an on-going debate about the role design can play in the Healthy Ageing agenda.
Three brains beat one – the chemistry of collaboration in the Healthy Ageing market
Unpredictable patterns of consumer behaviour; shifts in spending power; the rise of self-help; emerging socially responsible drivers; lack of readily available data or segmentation; perceptions of the older market as a negative amorphous grouping. There's a bundle of known unknowns for entrepreneurs to get their heads around.
To exploit the market with confidence collaboration between businesses who have the idea, third sector organisations with market knowledge and designers who can imagine users' needs is a potent formula.
Nesta's and Save The Children's recent research 'Better Together' demonstrates how collaboration between the third sector and start-ups can benefit both sides. For third sector organisations, tapping into start-ups' innovative ideas and ways of working can lead to increased impact. For start-ups, it can make the difference between failing and scaling.
Benjamin Kumpf, Head of Innovation, Department for International Development:
"There is a lot to learn from start-ups not only in terms of the technology they use but also how they work. This can make a potentially disruptive difference in third sector organisations that are used to more traditional ways of working."
"Nesta's report aims to help third sector leaders and start-ups understand the value of collaborating and assess whether it is right for them, identify the necessary steps to prepare for, design and carry out collaborations and the key challenges to anticipate."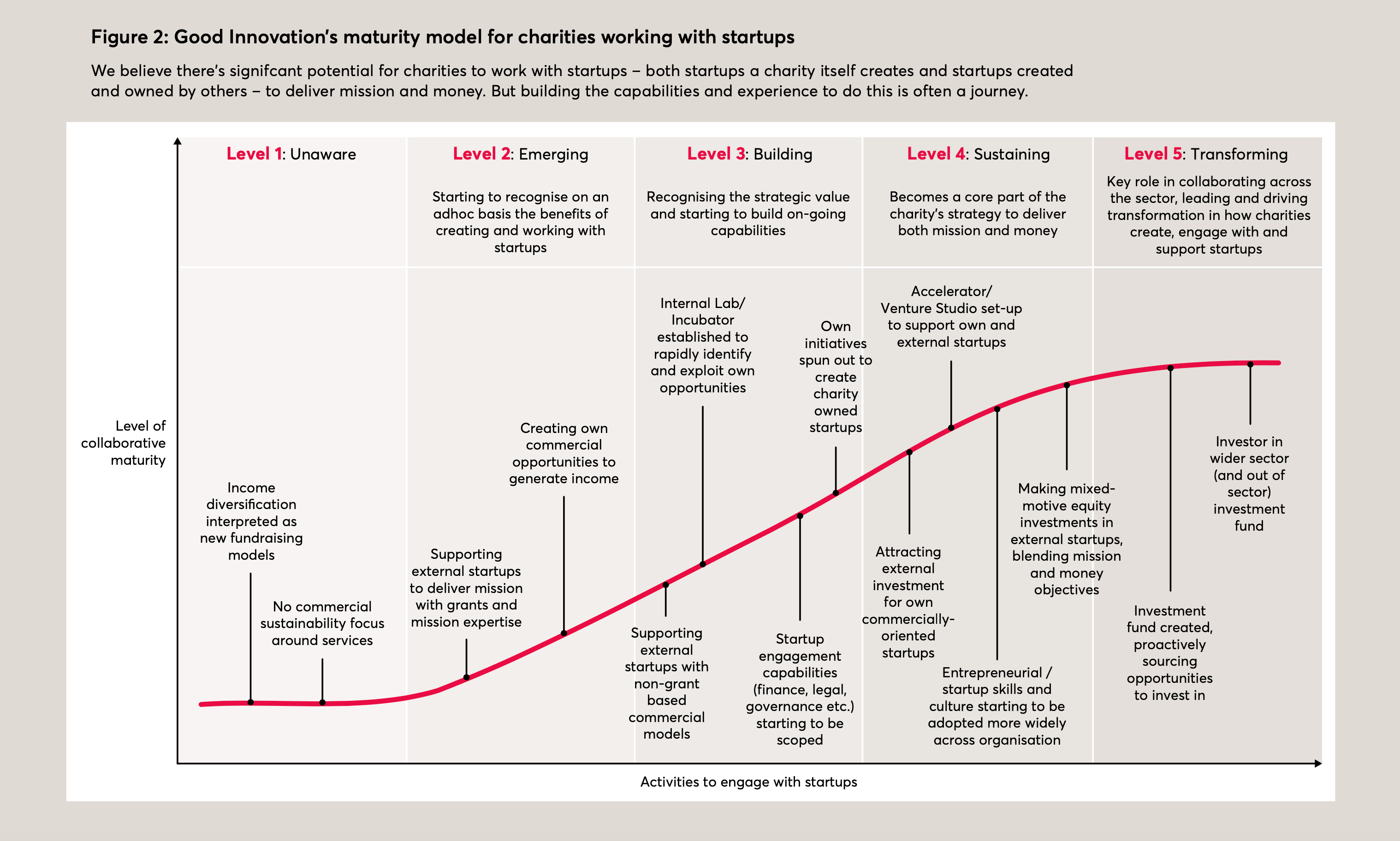 Source: Nesta & Save the Children – Better Together 2020
Collaboration modes
By analysing cases of third sector-start-up collaborations, including examples from UNICEF, Save the Children and Alzheimer's Society, Nesta's report found that the third sector is experimenting with a range of collaboration models to engage with start-ups, such as co-working spaces, accelerator programmes and investment funds. When the third sector collaborates with start-ups, it can increase its impact in four complementary ways:
By supporting start-ups with similar missions and values
By rejuvenating internal mindsets, behaviours and methods
By solving challenges more effectively together
By ensuring the long-term viability of their organisation
Third sector organisations can consider various collaboration modes ranging from one-off events to more structured repeated programmes carried out alone or with external partners. To identify the most suitable mode, third sector organisations should assess the following questions:
What are the objectives for start-up collaboration?
What level of resources can be committed to the collaboration?
What is our level of collaborative maturity in working with start-ups?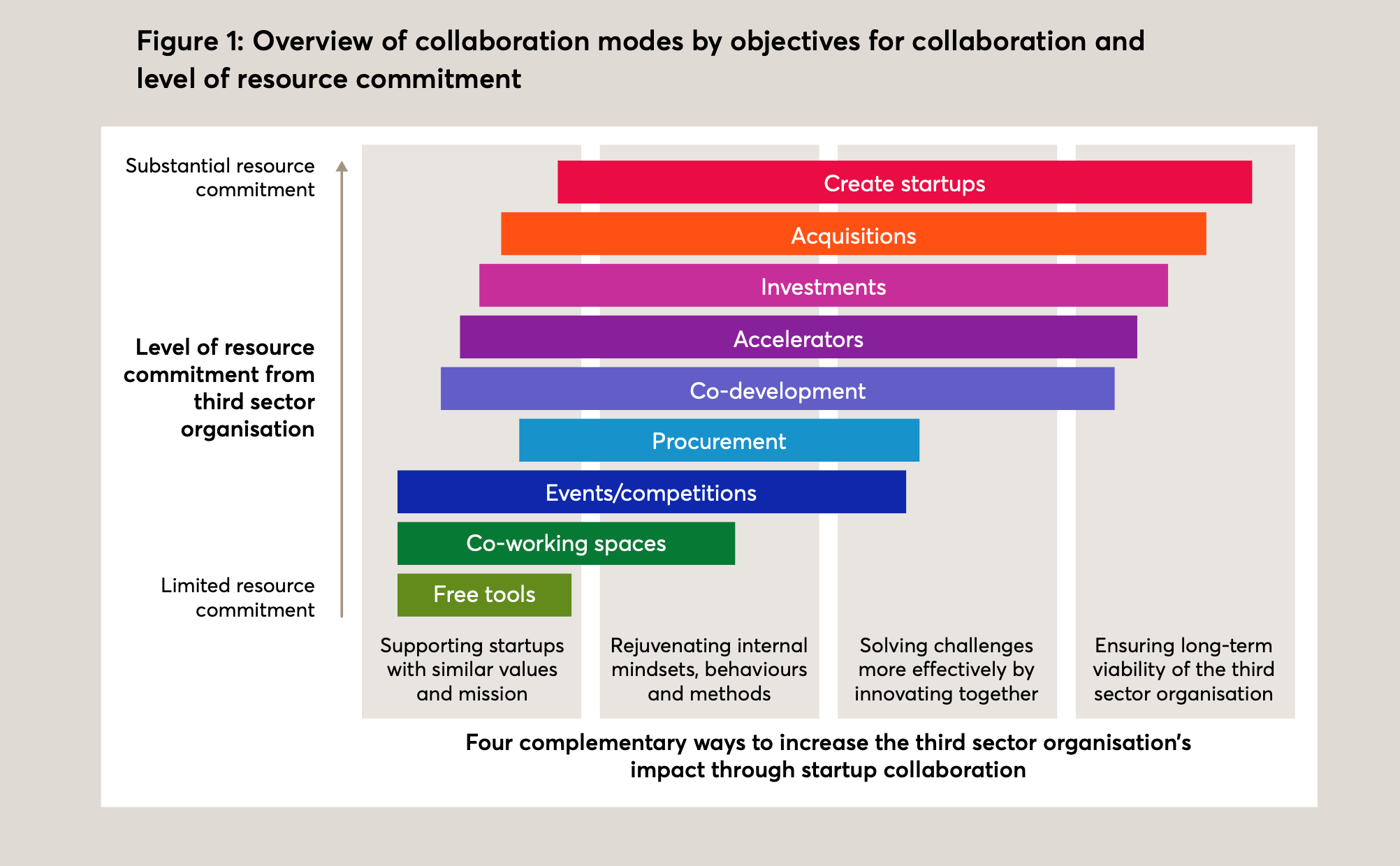 Source: Nesta & Save the Children – Better Together 2020
Collaboration framework
To get started third sector organisations and start-ups can move from preparing for collaboration to setting the parameters and finally, making the collaboration work.
Source: Nesta & Save the Children – Better Together 2020
The chemistry of collaboration combining entrepreneurs, social enterprises and designers creates a potent fusion of insights and ideas to propel propositions forward, pivot them into adjacent markets and build an ecosystem to accelerate market access.
And it's designers who provide the bridge between the producers, users and influencers.
Three lens of innovation focusses minds
One tool used by designers to help businesses understand the whole picture of their opportunity is the Three Lens of Innovation tool advocated by UKRI in their newly published Design and Innovation strategic plan 2020-24.
Advances in technology can turn ideas into reality, however the benefits will only be realised if they are adopted and used by people – whether as citizens, consumers or businesses. Ultimately, the success of any new idea depends on human behaviour and decisions. Technology enables supply, but people determine demand.
Successful innovation requires both to be aligned, and it is here that design is crucial and where design thinkers can help businesses use technology to meet user's needs that is viable to their business.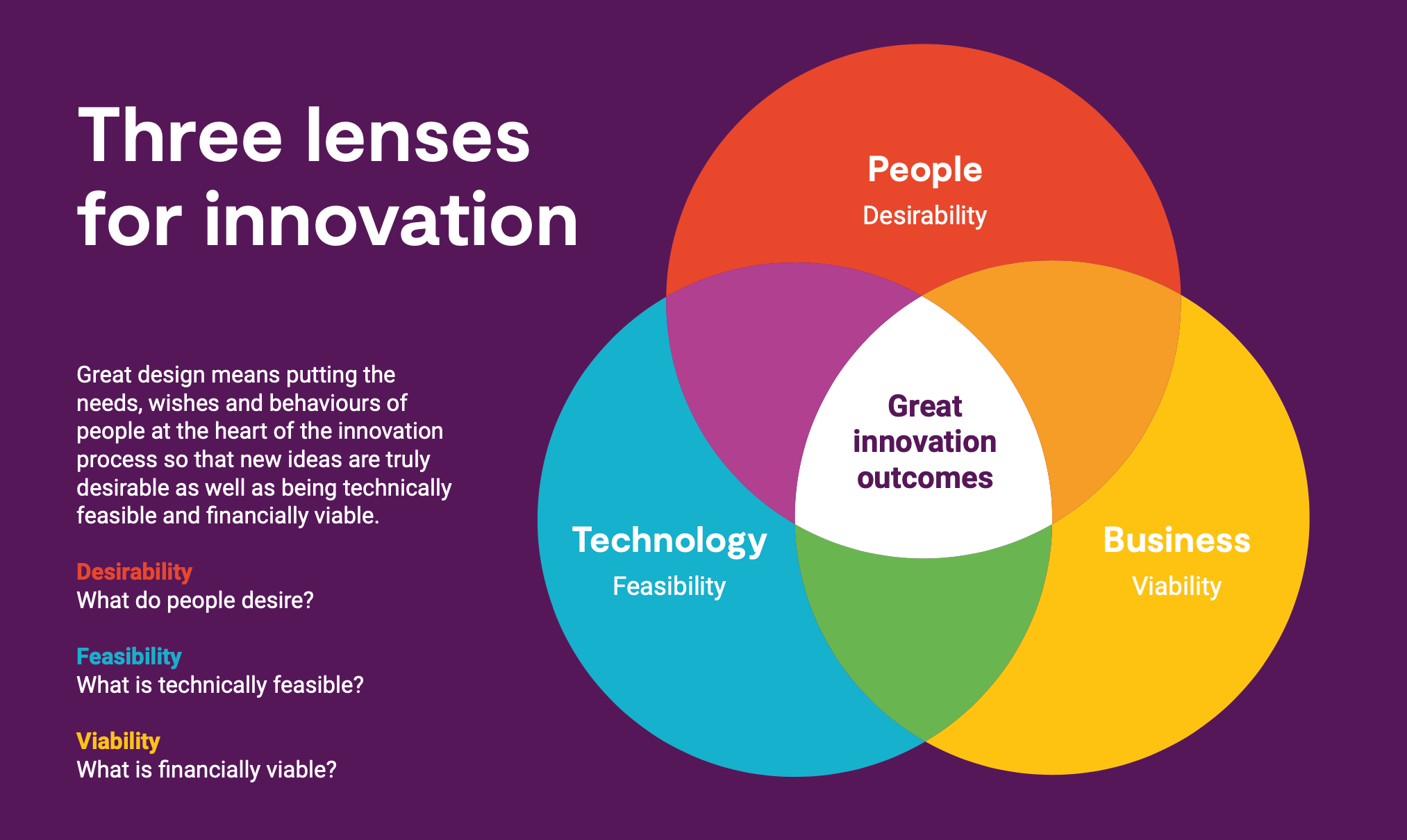 Source: UKRI Design and Innovation Strategy 2020-24
Is your business focussed on all three lenses equally?
Great design means putting the needs, wishes and behaviours of people at the heart of the innovation process so that new ideas are truly desirable as well as being technically feasible and financially viable. Ask yourself, your team and your investors these three questions:
Q1. People. Are you clear who your users are and what they desire from your product or service?
Q2. Technology. Are people's desires technically feasible and will they meet their future needs?
Q3. Viability. Is the service that people desire financially viable and commercially attractive?
Paul Priestman gives a designer's view:
"Design and technology have an integral role to play in enabling healthy ageing. They can help us encourage positive behaviours and facilitate healthier, independent living for longer, providing both physical and mental benefits. But in order for design for ageing to be successful, it is imperative that we engage with user groups as part of the research and development process. Only by keeping the user at the heart of design thinking, will we be able to create viable solutions that will enhance wellbeing for older generations, and help people lead fuller, healthier and more rewarding lives in an ageing society."
What next?
For entrepreneurs gearing up for the ageing market with energy, insight and ideas now is the time to ask some important questions:
Are you tracking trends in emerging behaviours?
Do you have a deep understanding of your target segment of the ageing market?
Are you collaborating with the right partners?
Is your Innovation Lens clear and focussed?
Are you thinking "design intelligence entrepreneurship"?
Entrepreneurs see opportunities. Designers understand users. Together they can accelerate impact.
John Mathers will be speaking at ILC's sixth annual Future of Ageing conference on Thursday 3 December in a session titled: "Inclusive by design: Making products and services that work for all ages". Find out more and get your tickets here.
John Mathers and Julian Grice
Co-founders, Design Age Accelerator
John Mathers and Julian Grice advise the UKRI Healthy Ageing Challenge, review projects and help organisations capitalise on user-centred design thinking to accelerate innovation, increase adoption and create value for product and service providers to drive growth.
For more information and advice about our Healthy Ageing by Design project contact John on john.mathers2@btinternet.com