HRH The Prince of Wales presents ILC-UK Chief Executive with Lifetime Achievement award
Mar 20, 2017 | NEWS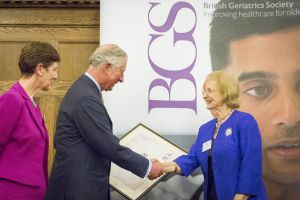 We are delighted to announce that our Chief Executive, Baroness Sally Greengross OBE has been awarded a special Lifetime Achievement award by the British Geriatric Society (BGS), on the occasion of their 70th anniversary celebrations.
At a ceremony attended by patients, members of the BGS, doctors, nurses and healthcare workers, HRH The Prince of Wales presented Baroness Greengross with the award for her contribution to improving services for older people, and her ongoing support for the BGS.
Baroness Greengross sits as a Crossbench Peer in the House of Lords, and serves as Vice-Chair of the All Party Parliamentary Group on Dementia, and Co-Chair of the All Party Parliamentary Group for Ageing and Older People.