The Budget for savers…but where will they come from?
Mar 19, 2015 | BLOG
By: Helen Creighton and Ben Franklin
In a budget full of politics, but devoid of much policy, all of George Osborne's announcements centred on savings.
For the pensioners there was increased access to their pensions savings via the un-locking of annuities; for first time buyers there was the promise to top up their savings for a deposit; and for everyone else there were flexible ISAs and a new Personal Savings Allowance. But will these measures really support a nation of savers?
Let's look at the macro picture.
True, the latest OBR forecasts accompanying the budget predict a higher savings ratio than projected at the time of the autumn statement, just over 3 months ago.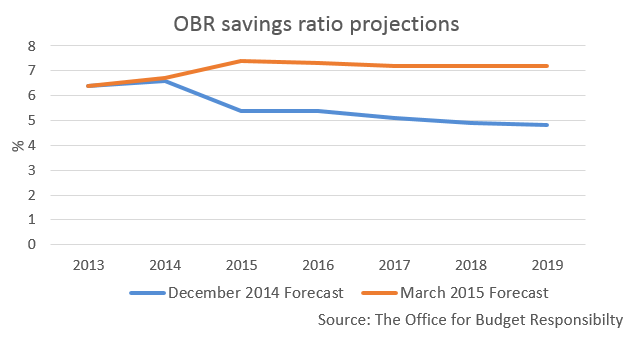 However, setting these projections into a historic context shows that even these new projections are relatively low by previous standards – over three percentage points below savings levels seen in the early 2000s and over five percentage points lower than in 1997.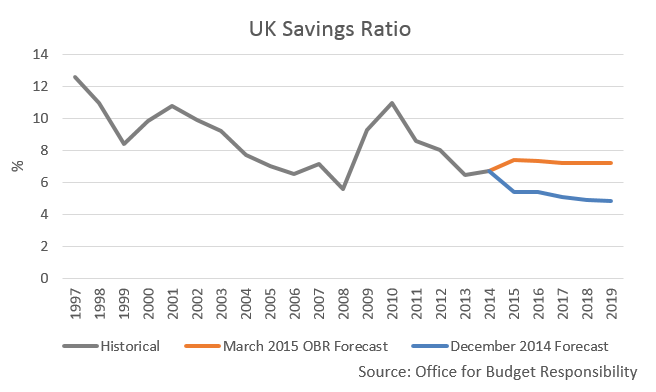 Future growth is predicted to be fuelled primarily by private consumption, and with this comes projections of increasing levels of debt. Household debt is now projected to rise more slowly than previously expected, returning to its pre-crisis peak during 2019 rather than 2018. This is as a result of the exceptionally low level of inflation forecast for this year of just 0.2%, which will support higher real incomes.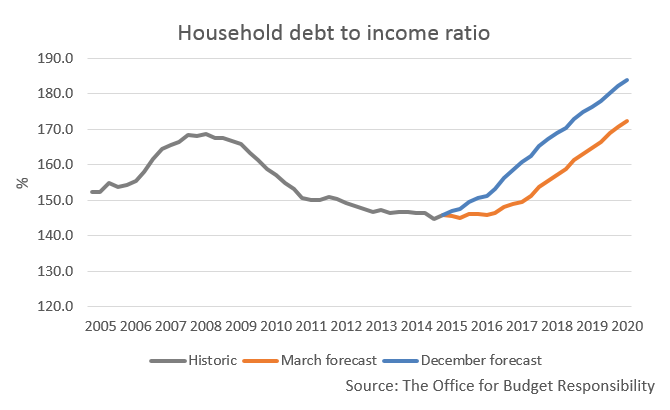 Inflation is at its lowest levels since the 1960s, as illustrated by the graph below released by the ONS, which will at least temporarily give households a little breathing space. However the OBR predict that inflation will rise back to the Bank of England's 2% target over the course of the next parliament, taking us back to the same story we had before the financial crisis – an economy sustained by private debt. Osborne's final budget before the election was a budget for savers, but supporting savings growth among the UK public is set to be a real challenge given this economic backdrop.
Helen Creighton
Policy and Research Officer, ILC
Helen Creighton worked as a policy and research officer at the ILC from September 2014 to August 2015. She is currently a senior policy adviser at the Cabinet Office. 
Ben Franklin
Assistant Director, Research & Policy
Ben Franklin worked at the ILC from December 2013 to October 2018. He is currently Head of research methods at the Centre of Progressive Policy