Exploring dementia and agitation: How public policy needs to respond
Publication Date: 01 March 2019
Mar 1, 2019 | REPORTS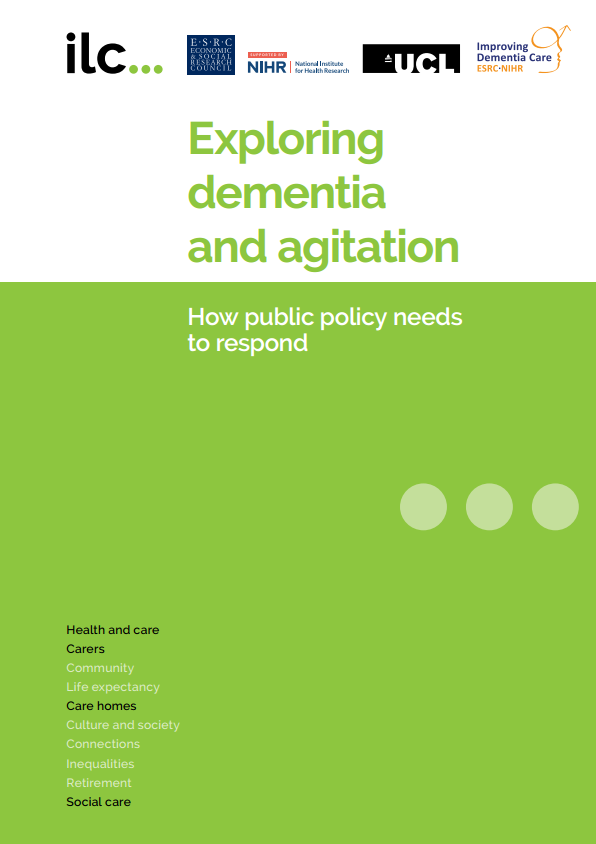 With 850,000 people living with dementia in the UK, there is a significant need to understand how to improve quality of life for them and their carers. 
This report summarises a number of key findings from the MARQUE project, led by Prof Gill Livingston from UCL. MARQUE (Managing Agitation and Raising Quality of Life in Dementia) is the largest ever study involving people living in care homes.
Funded in 2014 by the Economic and Social Research Council (ESRC) and the National Institute for Health Research (NIHR), the study examined critical issues for people living with dementia and their paid and unpaid carers.
Key findings from the research include:
• Agitation is common in people with dementia. It reduces quality of life and is difficult to improve. Some exceptional families are able to cope with people at home, but more action is needed to help other families adopt the same strategies to cope better.
• When people with dementia and agitation are admitted to care homes, staff are often not able to deliver the quality of care that people would want for their relatives or what the staff members themselves may wish to deliver. Staff are also not regarded as people whose own personhood is important.
• Care homes are complex systems, and having something available like activity groups does not mean people with agitation are enabled to use them. Even an intervention that can improve quality of life may not be enough to reduce agitation. Resources to implement interventions, rather than expect staff to change within a complex system, are necessary.
Authors: Dr Brian Beach and Laura Thomas