An ILC-UK Valentine's Day Special: Rethinking relationships in later life
Feb 18, 2016 | BLOG
By: Brian Beach, Research Fellow
Many people across the country celebrated the romance of their relationship this past Sunday, painting the town red for Valentine's Day 2016. In many ways, the Valentine's Day tradition is quite old, with our modern link with romantic love appearing all the way back in Chaucer's poetry in the 14th century.
But just as the traditions around Valentine's Day have changed over the centuries – from the exchange of paper cards in the late 18th century to roses, chocolates, and other gifts (diamonds, anyone?) in the 20thcentury – the nature of relationships and romance has evolved in a number of ways into the 21st century.
These shifts are perhaps most salient for people in earlier adulthood, where many long-term relationships are established, but they are also relevant for thinking about people in later life, particularly when one considers the impacts of such changing structures for the future. There is an important need to rethink how society is changing in terms of relationships and the impact this may have on our older population – and what can be expected of them – in the future.
We featured a blog prior to Valentine's Day that looked at new relationship formation in later life, and indeed one of the significant changes seen today is the growing number of divorces and second (or later) marriages among older people compared to the past. But there are also questions around potentially growing numbers of people remaining single for much of their lives, as well as the implications of people in relationships who live apart.
The Power of One
For many people, there is a general tendency to seek romantic love and a partnership, with marriage being the inevitable conclusion. However there is growing recognition that this is not the preferred life path for many people, with an increasing proportion of people who do not enter into formally recognised commitments.
While many of these people do form long-lasting partnerships, the trend in singlehood is in fact growing, even amongst the older population. To develop the picture on singlehood in later life, we used data from the English Longitudinal Study of Ageing (ELSA) to look at partnerships amongst people aged 50+ living in private households in England. We use information on official marital status, looking specifically at people who report 'single, never married'; where appropriate, we put single, never married people who were cohabiting with a partner into the partnered category. There will of course likely be single, never married people who have a significant other living separately, but we will turn to consider that later on.
The first thing we find is that there has been a much more notable increase from 2002 to 2012 in the proportion of men who are single, never married compared to women. The proportion of men grew from 5.9% to 7.5%, an increase of over 27%, while the proportion for women remained nearly constant (4.63% to 4.75%).
Figure 1 shows how the single, never married people fall into different age groups, separated by gender and looking at two points in time. Given the overall changes between the genders noted above, this chart shows how, despite little proportional change amongst women, there has been a stark increase in women aged 50-64 who are single and never married. Women aged 50-64 represented 37.8% of all women single and never married in 2002, but the proportion grew by almost two-thirds to 62.6%.
Figure 1: Proportion of Single, Never Married People Aged 50+ in Different Age Groups by Gender, 2002-2012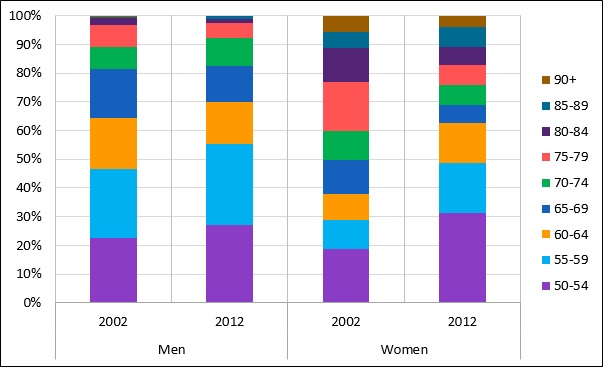 Source: English Longitudinal Study of Ageing; Data are weighted and account for sampling design.
This figure, however, only tells us how single, never married people as a group are changing with respect to age and gender. But we may also be interested in knowing how the prevalence of singlehood has evolved amongst different age groups. In other words, the previous chart shows that more single people are in younger age groups, but does this actually mean that younger age groups are more likely to be single? Figure 2 helps address that question.
Figure 2: Change in Percentage of People in Each Age Group Who Are Single, Never Married, 2002 to 2012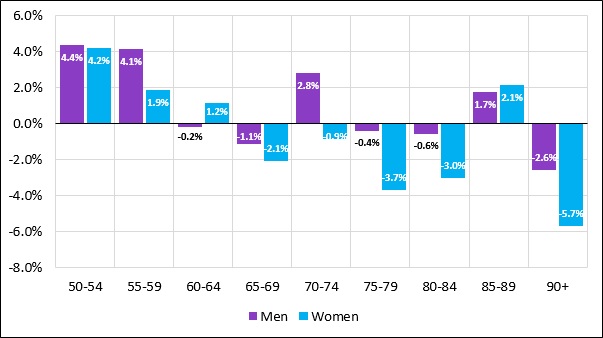 Source: English Longitudinal Study of Ageing; Data are weighted and account for sampling design.
We see that from 2002 to 2012, there has indeed been an increase in the percentage of both men and women in their 50s who are single and never married rather than any other marital status. At higher age groups, however, the percentage of people who are single, never married has declined with a few exceptions, e.g. those aged 85-89.
The reasons for decreasing singlehood in later life are unclear from the present analysis, but may possibly relate to new relationship formation or even to an underlying mortality benefit from relationships, in that people in relationships may have a reduced risk of dying earlier than others (and that this is having a bigger impact over time). At the same time, as seen in Figure 1, high proportions of single women in 2002 were aged 75+, so there may have been some kind of period or cohort effect related to the Second World War that led many people to live their lives unpartnered, given the numbers of men lost in battle; the war also saw a sharp decline in the numbers of marriages, down to figures not seen again until the mid-1990s.
Living Apart Together
As mentioned at the beginning of the earlier section, our ability to look at singlehood was tempered somewhat by the available data. The definition related to marital status, and although we were about to control for those who cohabited with partners, some of the respondents may in fact have had significant others in their lives, just not living together or in a marriage or civil partnership.
There has been growing interest in identifying the changing trends on this topic of 'living apart together' or LAT relationships. Many can imagine younger people involved in such relationships as they traverse early adulthood, moving for university or finding their footing in the labour market and starting a career. But the topic is also relevant for older people.
Because much of the standard data collection looks at marital status and cohabiting to assess relationships, it usually misses out on LAT relationships. The British Social Attitudes survey, however, did explicitly ask people if they had a partner with whom they did not live in 2006 and 2011; it should be noted the question was in fact only asked to people reporting a marital status as single, separated, divorced, or widowed. Figure 3 below shows the percentage of people in later life who reported living apart together in 2006 and 2011, separated by gender.
Figure 3: Percentage of People Living Apart Together by Gender and Age, 2006-2011
Source: The British Social Attitudes Information System (www.britsocat.com)
We see that LAT relationships are reported by a substantial minority of people aged 45-54 for both genders and both years, with percentages ranging from 20.9% to 24.1% for women from 2006 to 2011. However, amongst the other age groups, there is a stark difference between the genders. While 10.0% of men aged 65+ in 2011 were in LAT relationships, this was only true for 3.4% of women.
Figure 4: Change in Percentage Reporting Living Apart Together by Gender and Age, 2006-2011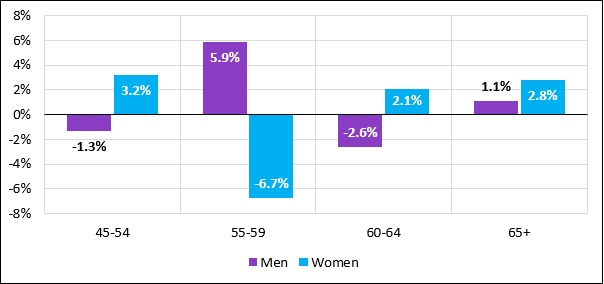 Source: Calculated from data obtained from the British Social Attitudes Information System (www.britsocat.com)
In terms of how the prevalence of LAT relationships in later life is changing over time, we see from Figure 4 that there were some general increases in LAT relationships for both genders in later life. The largest percentage increase was for men aged 55-59 with 5.9% more men of this age living away from their partners in 2011 than in 2006; at the same time, this age group also had the largest (and only) decline for women.
The available data cannot tell us whether people in LAT relationships earlier in later life progress into cohabitation as they get older, but we do see an increase in LAT relationships for both genders amongst those aged 65+. While part of this may relate to a partner having moved into a residential care facility, it does underscore the growing importance of recognising that the nature of households in later life is changing.
Care & (Why We Should Care about) New Relationship Structures
This blog has only focused on two aspects of how relationships in later life are shifting: singlehood and living apart together. Yet there have been further cultural shifts that will impact how relationships manifest in later life, alongside the implications for wellbeing in later life. In addition to the trends in divorce and re-marriage highlighted in our earlier blog, more people are entering mid and later life without children, and childlessness will become more prevalent for older people than in the past. Broad cultural acceptance for same-sex relationships has increased, making them more visible and prevalent, and we will likely see a greater number of older people in open same-sex relationships in the future.
The fundamental reason why we need to be aware of how relationships are changing is because relationships, along with general social connections, are crucial for people's health and wellbeing, especially in later life. Not only should we be concerned about social isolation and loneliness, but a vast majority of the care provided to older people comes from informal sources – the family; informal care is usually provided by a partner or a child. So what does this mean for people who do not have a partner or any children? And what will the impact be on a partner living apart who needs to start providing care to their loved one while not living in the same home?
The sheer growth in the number of older people in the future is expected to place the social care system under immense strain. But if we do not account for a growing segment of the older population who do not have the same family structure that has traditionally provided informal care, we risk making inaccurate and inadequate estimates for future formal care needs. This would leave a major shortfall in service provision right from the start, undermining the entire planning effort.
These topics around relationships in later life have already found interest among some academics, and further research will likely help us better understand how things are changing, the qualities that characterise different relationship groups, and how different groups may be exposed to different challenges in the future.
Dr Brian Beach
Senior Research Fellow, ILC
Brian joined the ILC-UK in June 2013. In this role, he has conducted research on a range of topics related to population ageing, such as loneliness, serious illness, and housing, with his main expertise relating to the issues around employment in later life. He has worked on this subject and the changing nature of retirement for over 12 years, and has been an active member on various strategic and advisory groups with universities, the voluntary sector, and government as they examine older people and the world of work.